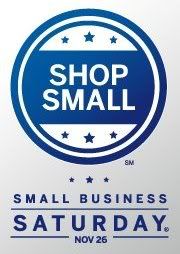 You know about Black Friday but have you heard about Small Business Saturday? Across America people are pledging to do some of their holiday shopping at locally owned businesses on November 26th.
Why shop local? Recent research reveals how buying local benefits our regional economies.
David Boyle of The New Economic Foundation told Time Magazine, "Money is like blood. It needs to keep moving around to keep the economy going". He added that when money is spent at non-locally owned giants or online: "it flows out, like a wound."
And, locally owned businesses create two out of every three new jobs, they contribute more to charities and local fundraisers than national chains, and, as we say in Louisville - small businesses keep local communities "weird" (aka unique)
. Simply put, buying local revives ghost towns and spares us that Any Town, USA quality of life.
Every Christmas my church collects toys for needy children. On Small Business Saturday I will purchase our contribution at
Amazing Green Planet
, a locally owned store that sells environmentally friendly goods, including toys. American Express will give us cash back for every $25.00 we spend at such participating small businesses. To learn more visit The Small Business Saturday website.
*This is
not
a sponsored post. It is inspired by my passion for local self-reliance.
Further Reading:
Buying Local: How it Boosts the Economy - Time Magazine
Why Buy Local? An Assessment of the Economic Advantage of Shopping at Locally Owned Businesses - Michigan State University
Small Business Saturday on Facebook
Small Business Saturday main website