Recently massive water damage destroyed most of our downstairs flooring. Did you know you are supposed to pour bleach into one of the air condition valves every few years or your house will flood? We didn't either.
We wanted carpet in the family room but it had to meet two criteria:
1. It
Wouldn't slowly kill us with toxic chemicals
2. Made from 100% recycled materials
Puresque
at Home Depot fit both. It is certified by the
Carpet and Rug Institute for safety and sustainability
. Not only is Puresque low in
Volatile Organic Compounds
but it is made from
recycled plastic bottles
. Now we get to feel good about having prevented thousands of discarded bottles from joining
that gigantic island of plastic under the Pacific Ocean.
. It's win win.
I'm pleased to report that our new carpet does not have that new carpet smell and that it is as plush as any other rug.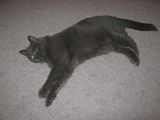 Just ask my cat!
I was torn between two great carpet pad options:
1.)
Step Ahead with Nike Grind
carpet padding is a Nike/Home Depot partnership. Think of sneaker making like cookie cutting. When making cookies those parts outside the cutter get reconstituted into the next cookie. With Nike those scraps become carpet padding instead of landfill fodder.
2.)
Healthier Choice
uses biofuels and renewable resources. They are a zero landfill operation, which means all waste products are turned into something else. Their carpet pads are low VOC and can be recycled.
We chose Healthier Choice because its specs for mold, mildew, and bacteria prevention are excellent. Since the room is situated between a bathroom and the laundry room we need that extra protection. Who knows - had it been a different room we might be walking on Nike.
The Step Ahead padding looks significantly thicker than the Healthier Choice, so if you are specifically wanting a thicker pad that's worth knowing.
TIPS WHEN SHOPPING FOR GREEN CARPET
1. Watch out for Greenwashing. Just because the sign says it is green does not mean the product is as green as it could be. Always look at the back of the carpet swatch. If the sign says made from recycled materials yet the swatch says up to 5% recycled materials that is Greenwashing.
2. Look for the Carpet and Rug Institute's Green Label Plus logo on the back of the carpet swatch. This means the carpet, pad, or adhesive is among the safest in the industry.
ADDITIONAL RESOURCES FOR ENVIRONMENTALLY FRIENDLY CARPET SHOPPING:
Shaw Flooring
Green America
How to Shop for an Environmentally Friendly Rug
Tags: Environmentally Friendly Carpet, Puresque Carpet Low VOC, Home Depot Carpet Pad Nike, Healthier Choice Carpet Pad, Eco Friendly Carpet, Green Carpet, Recycled Carpet, Puresque Carpet Review, Puresque by Beaulieu, Beaulieu Puresque Carpet.